The Southern Highlands Master Planned Community hosts annual spring and fall yard sales. Buyers can utilize the list and corresponding map below to locate participating communities.
We ask that buyers and sellers practice current social distancing guidelines. This includes wearing a face covering and washing/sanitizing your hands in between sales.
FALL YARD SALE
Saturday, October 2 – Sunday, October 3 • 7:00 a.m. – 2:00 p.m.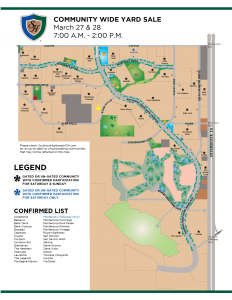 The list of gated and un-gated Southern Highlands Communities will be listed here as they confirm participation.
Ansedonia
Bella Terra
Bella Vicenza
Brasado
Caparola
Castellina
Civano
Cortona
Cortona Hills
The Heathers
Interlude
Laurentia
The Legends
Montagne Marron
Montecito
Monterosso Crossings
Monterosso Vintage
Royal Highlands
San Niccolo
Setona
Siena Ancora
Siena Vista
Toscana Vineyards
Via Dana
The following are un-gated Southern Highlands Communities where participation may vary:
Belcerro
Glenhaven
Heathercrest
Monterosso Canyons
Paragon Parkside
RESIDENT INFORMATION
---