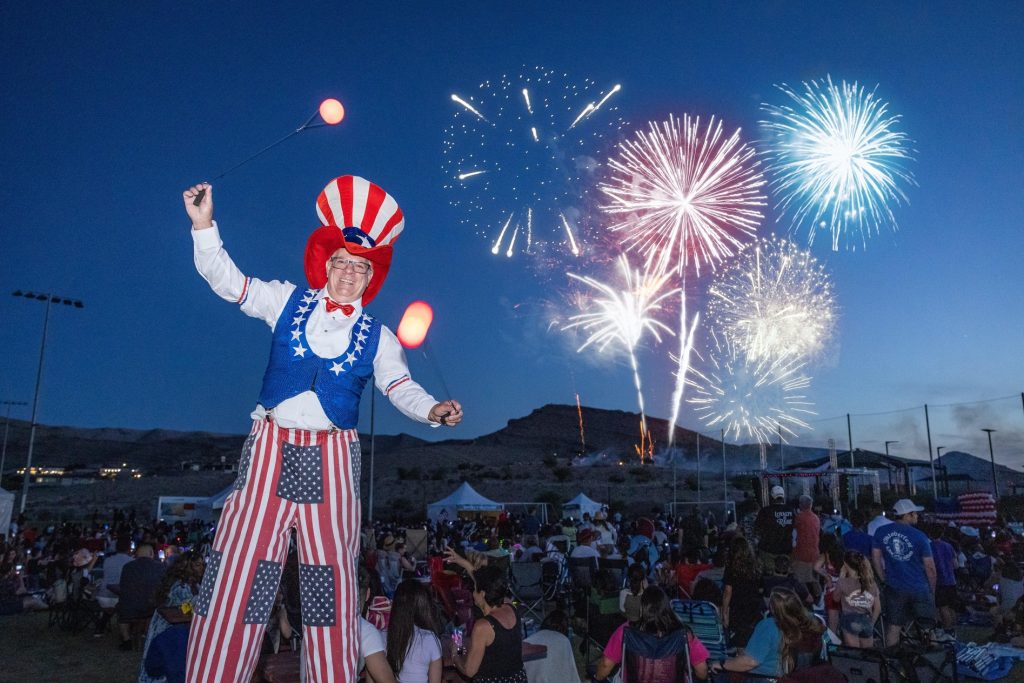 Southern Highlands came alive on Memorial Day as over 3,500 residents, family, and friends united for the 21st annual Memorial Day Celebration at Olympia Sports Park. This popular event delivered a day of delectable food, dazzling fireworks, and abundant family fun.
Under sunny skies, attendees reveled in an array of exciting activities, music, and entertainment throughout the day. Laughter filled the air as families indulged in great food, participated in games, enjoyed live performances, and eagerly awaited the breathtaking fireworks finale.
Presented by the Olympia Companies Charitable Foundation and the Southern Highlands Community Association, the event holds a special place in the hearts of residents. It serves as a treasured opportunity to honor the courageous men and women of the U.S. Armed Forces who made the ultimate sacrifice. This year, the celebration also raised funds for Operation Warm Heart, a remarkable non-profit organization dedicated to supporting local airmen and their families at Creech and Nellis Air Force Base.
Adding to the patriotic spirit, the event featured the third annual talent search for a national anthem singer. Local talent Sally Damian emerged victorious, delivering a captivating rendition of The National Anthem while the Nellis Air Force Honor Guard presented the Colors.
Thrilling activities kept families engaged throughout the day, including Bingo, inflatable games, slides, obstacle courses, bounce houses, and more. The lively atmosphere was enhanced by an energetic DJ, while students from the Las Vegas Circus Center entertained spectators with their awe-inspiring aerial and circus acts. And to appease hungry appetites, popular food trucks such as Alpha Dawg, Flip N Grill, Taco Avenue, Flat Tops Burgers & Shakes, Joy Pop, and Happy Ending Chocoalte provided a delicious culinary experience.
As the sun dipped below the horizon, all eyes turned towards the night sky for the grand finale—a spectacular, eight-minute fireworks extravaganza. The dazzling display, synchronized to a patriotic pop playlist, filled the air with awe and wonder.
The Olympia Companies SH Charitable Foundation and Southern Highlands Community Association have long been steadfast supporters of Operation Warm Heart. Over the years, they have donated more than $315,000 to this impactful organization. In addition to the Memorial Day Celebration, the Winter Festival and Tree Lighting, as well as the Governor's Black Tie events, have been instrumental in raising funds for this worthy cause.
Recently, the Foundation made a special visit to Nellis Air Force Base, presenting Msgt. Kaci Groff and representatives from Operation Warm Heart with a generous donation of $15,000. The contribution included proceeds from the Memorial Day Celebration as well as additional funds donated by Olympia Companies Charitable Foundation and Southern Highlands Community Association. The impressive donation further demonstrates an unwavering commitment to supporting this invaluable organization.
Event coordinator Brittany Kincaid expressed her joy, stating, "There's no better way to celebrate Memorial Day than by joining together with family, friends, and neighbors. We are thrilled to honor the military, have fun, and support such a worthwhile organization."
The Memorial Day Celebration at Southern Highlands continues to embody the spirit of gratitude, unity, and community, making it an annual highlight for residents and a testament to the enduring values of remembrance and support.
Welcoming winter and kicking off the holiday season, Southern Highlands in partnership with Olympia Companies Charitable Foundation, hosted its popular annual Winter Festival and Tree Lighting. A welcome opportunity for neighbors to gather in the spirit of the season, this year's event was a holly jolly good time filled with food, family, friends, and festive fun benefiting Operation Warm Heart, a nonprofit organization that provides financial assistance to the local airmen and their families of the Nellis and Creech military community.
Bundled up to brave the wind and wintry weather, hundreds of Southern Highlands residents enjoyed food, music, and merriment. This year's Winter Festival and Tree Lighting was magical and featured photo opportunities with Frosty the Snowman, The Gingerbread Man, and of course Santa Claus himself. Kids had the opportunity to write letters to Santa, create a gingerbread train craft, drink hot chocolate, and enjoy Story Time with Mrs. Claus. One of the highlights was the Holiday Express Trains which took passengers on a fun journey through the perfectly decorated event space.
A DJ spun some holiday hits and the choir from nearby Desert Oasis High School spread their harmonic holiday cheer as they caroled throughout the festival leading up to the magical moment when the enormous Christmas Tree was officially lit.
Attendees also enjoyed browsing and shopping in the Vendor Village and many were spotted picking up perfect stocking stuffers and holiday gifts created by local artisans. There was no shortage of food and drinks as popular food trucks including Alpha Dawg, Cake Wagon, Flat Top's Burgers and Shakes and more were on hand to serve up delicious favorites.
In all, through the sales of train ride tickets, holiday swag including reindeer antler headbands and light-up necklaces, and toy and monetary donations including from Olympia Companies Charitable Foundation, the annual event raised $6,000. With an additional $2,000 being donated by Garry Goett on behalf of Olympia Companies.
The Olympia Companies Charitable Foundation and Southern Highlands have long been proud supporters of Operation Warm Heart. In addition to the Winter Festival and Tree Lighting, other community-focused events include the upcoming annual Memorial Day Celebration and Fall Festival.
It was a beautiful and warm day at Goett Family Park for this year's annual Fall Festival hosted by the Southern Highlands Community Association. Held on Saturday, Oct. 15, the seasonal celebration featured Halloween-themed inflatables and carnival-style games, bounce houses and slides, a rock-climbing wall, bungee, craft and coloring contest, face painting, costume contests, plenty of pumpkins, field games, vendor booth trick-or-treating, music, food, drinks, entertainment, and plenty of fun for the whole family.
Attended by hundreds of Southern Highlands families from the surrounding neighborhoods, the free community-focused event also served as a fundraiser to benefit two local charities – Andson and Operation Warm Heart. Andson provides innovative academic and financial literacy programs for young people in Southern Nevada and Operation Warm Heart, an impactful non-profit organization that provides financial assistance to local airmen and their families at Creech and Nellis Air Force Base. Through raffle ticket sales, donations and more, $XXX was ultimately raised for Andson and X# of gas cards were purchased and donated to Operation Warm Heart.
One of the most popular happenings at the Fall Festival is the raffle. This year's prizes included Apple AirPods, a MetaQuest 2 virtual reality headset, an electric scooter, a beginner's telescope, Lego sets, and more.
Creativity was on full display with imaginative costumes spotted throughout the event including favorite characters from television and movies, an abundance of superheroes, pirates, scary skeletons, fairy princesses, butterflies, witches, clowns, and more. Families also enjoyed picking out the perfect pumpkin.
Having fun certainly works up an appetite. Popular food trucks including Belle Isle Smokin Barbecue, Custom Pizza, Somethin' to Taco 'Bout, Alpha Dawg and All We Do is Wing were on hand to keep attendees satisfied.
An official Fox 5 Take 5 to Care event guest emceed by reporters Regina Ahn and Alexis Fernandez, throughout the day, live performances from Las Vegas Circus Center and Southern Highland's GOTTA Dance Studio kept event attendees amazed and enthusiastically entertained.
"This event is a great time for families," said Matthew Falco, title here. "Even better, we are raising money and awareness for two very impactful non-profits here in southern Nevada. Given the backslide students faced this year, Andson's work has never been more important, and with the large veteran and military community here, it's important for us to support Operation Warm Heart and ensure our military families have what they need."