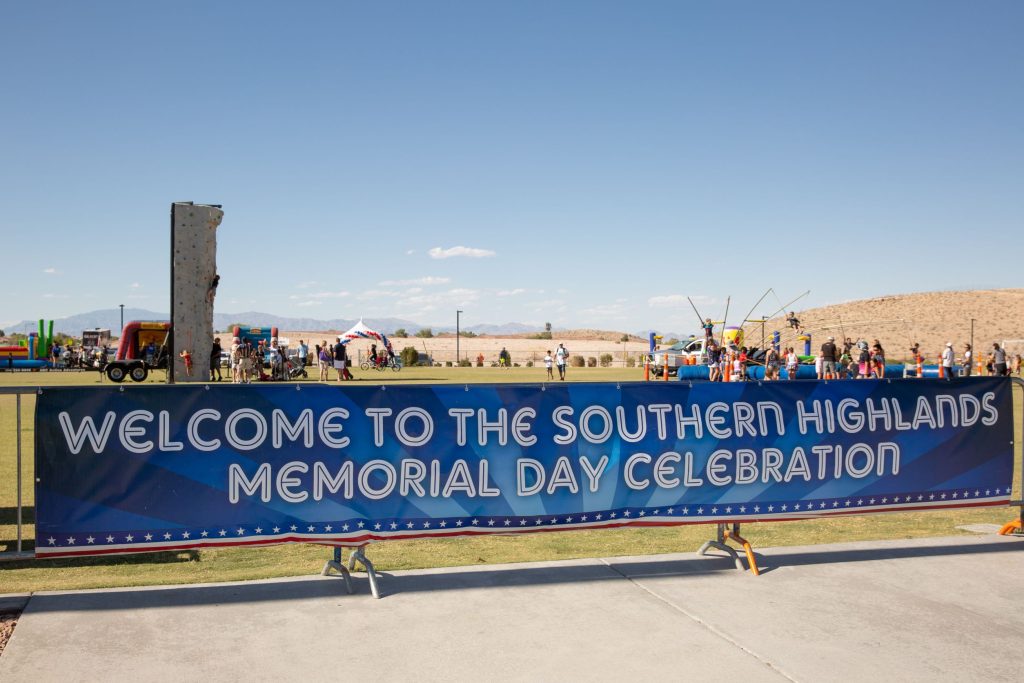 It was a day filled with food, fireworks, and family fun for the 20th annual Memorial Day Celebration in Southern Highlands as more than 800 residents, family and friends came together to enjoy a fun-filled day outdoors at Olympia Sports Park.
The weather was ideal and good fun was had by all as families enjoyed great food, music, entertainment, games, a raffle and much more all leading up to the spectacular fireworks finale.
Hosted by Olympia Companies Charitable Foundation and the Southern Highlands Community Association, the annual Memorial Day event is a perennial favorite among residents to commemorate the holiday and pay homage to the brave men and women of the U.S. Armed Forces who made the ultimate sacrifice. This year's event again supported the long-standing community partner Operation Warm Heart, an impactful non-profit organization that provides financial assistance to local airmen and their families at Creech and Nellis Air Force Base.
For the second year in a row, a talent search was conducted for a national anthem singer and local Ciana Pelekai was selected and did a marvelous job performing The Star-Spangled Banner as the Nellis Air Force Honor Guard presented the Colors.
Throughout the day, families enjoyed an abundance of activity including BINGO, inflatable games, slides and obstacle course, bounce houses and more. In addition to a DJ who kept the music high-energy, students from Circus Center Las Vegas performed a variety of aerial and circus arts acts.
After sunset, attendees and nearby residents gathered to witness the dazzling 8-minute fireworks extravaganza as it lit up the night sky. The colorful fireworks display was synchronized to a patriotic pop playlist.
The Olympia Companies SH Charitable Foundation and Southern Highlands Community Association have long been proud supporters of Operation Warm Heart. In addition to the annual Memorial Day Celebration, other community-focused events including the Winter Festival and Tree Lighting and the Governor's BlackTie events have also served to support this worthy organization.
Recently, the Foundation went to Nellis Air Force Base and surprised the leadership of Operation Warm Heart with a donation of $20,000 including the proceeds from the Memorial Day Celebration and more.
"What better way to celebrate Memorial Day this year than by joining together with family, friends, and neighbors," said Brittany Kincaid, event manager. "We are so thrilled to be able to be together in person to honor the military, have fun and support such a worthwhile organization."
In a true sign that spring is in the air, Southern Highlands recently held its annual Spring Community Yard Sale. Lightening the load in closets, garages, homes, and more, the two-day neighborhood yard sale included a drive-through mobile shredding service and a donation drive for the Opportunity Village Thrift Store. In addition to unloading their own unwanted items, residents had the opportunity to uncover new treasures by shopping their neighbors' wares.
As they have in the past, Southern Highlands residents delivered a variety of good-quality used furniture, housewares, and clothing for the OV Thrift Store. In its 60th year, Funds raised at the Thrift Store benefit programs and services for adults with intellectual disabilities. Additionally, it serves as a training center for those in the program that are interested in pursuing a career in retail. The OV Thrift Store is the organization's oldest business and has a long-standing reputation for offering gently used items of the highest quality. 
Topping off the weekend-long spring-cleaning event, a complimentary mobile shredding station at the Southern Highlands Corporate Center shredded more than six thousand pounds of documents on site. The shredding event allowed individuals to dispose of sensitive materials while keeping their identities secure.
Residents from more than 30 communities throughout Southern Highlands participated in the annual event, which was free and open to the entire Las Vegas Valley. The next Community Yard Sale event is scheduled for October 2-3, 2021.
Christmas Tree Recycling Program is Gift That Keeps on Giving
Southern Highlands residents have consistently demonstrated a deeply rooted love for trees and green spaces as evidenced by the lush landscaping that Par 3 maintains throughout the community. This year, residents showed just how much they genuinely care about going green and recycled their Christmas trees in record number.
The Southern Highlands Christmas tree drop-off site, facilitated by Par 3 Landscaping Management and located at the Southern Highlands Corporate Center, received a record 1,200 trees this holiday season.
"It's always been our goal to make Southern Highlands the most beautiful HOA in the valley," said Daryl Miller of Par 3. "It's also wonderful to be able to have positive impacts on the community as a whole, through managing water usage, community activities, and tree recycling."
An annual tradition citywide, the tree recycling program is orchestrated in tandem with The Christmas Tree Recycling Committee, made up of a number of community partners including UNLV and Springs Preserve. The free program ensures that instead of going into our local landfills, the evergreen trees are recycled into mulch, and the mulch is put to good use in public parks and gardens to help conserve soil moisture and keep plants healthy. Southern Highlands residents know that by recycling their tree, they are giving a gift that keeps on giving back to the community.
"We know our residents care deeply about sustainability," said Michelle Brody of Olympia Management Services. "We see their generosity and commitment to the community time and time again and especially during the holiday season."
For more information about the valley wide program, visit the Springs Preserve website.